Welcome
Brett Dillingham teaches Performance Literacy- where children write and tell their own non-fiction and fiction stories- in Ireland, England, Germany, Hungary, Russia, Viet Nam, Thailand, Costa Rica, Saudi Arabia, Nigeria, South Africa, Canada, Alaska and the Lower 48 states. Brett also teaches digital storytelling and "found" poetry. He is a sought after educator and speaker at national and international conferences. Brett is the author of the children's book Raven Day (McGraw Hill, 2001) and the textbook Performance Literacy Through Storytelling (Maupin House, 2009) and Brett is the past president of the Alaska State Literacy Association.
In addition to his teaching, Brett is a world-class storyteller, a powerhouse performer in complete command of his art form. Audiences from Africa to Ireland agree that his riveting storytelling presentations are told with a unique, compelling style. His work has been presented at the Kennedy Center for Performing Arts, and he has performed live storytelling on National Public Radio, the African Association of International Schools, the Calgary International Children's Festival, the World Congress on Reading, the National American Reads conference, the Reading Association of Ireland, the National Migrant Education conference and the International Reading Association.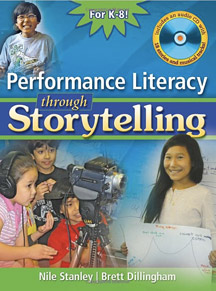 Performance Literacy Wins Two Educational Publishing Awards
Gold Recipient of the Independent Book Publisher Awards (IPPY) in the Education/Academic/Teaching category; finalist for the Distinguished Achievement Award under the K-5 Curriculum and Instruction category by the Association of Educational Publishers
Raven Day
A transformation tale of animal magic where a boy learns the power of sound and takes flight as a raven... for a day.